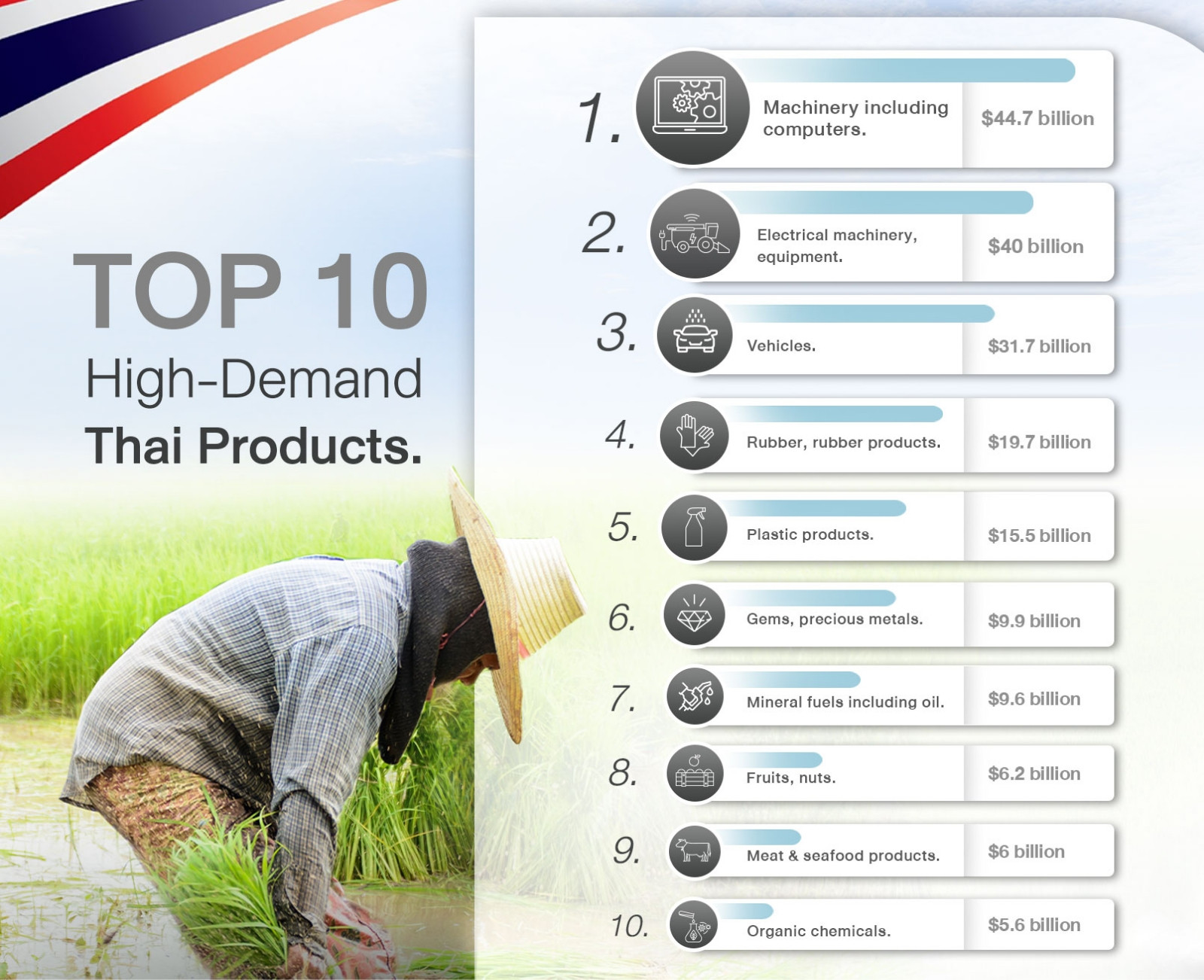 Thai products are one of the most sought-after goods internationally as, according to Statista.com, Thailand is the world leading exporter of natural rubber, tapioca products, frozen shrimp, canned tuna, and canned pineapple and the 13th largest food exporter in the world. Thailand also offers a wide range of products you could imagine, from exotic, organic products to state-of-the-art technology. As Southeast Asia's second largest economy, Thailand's exports are going strong by growing almost 10% in April 2022. It is safe to say that Thailand is a strong marketplace when you need a good product for your business.
The 10 biggest export Thai products in 2021.
Here were the 10 biggest export product groups based on dollar value during 2021.
Not only industrial products that remained popular in the global market, in December 2021, the exports of agricultural and food products, work-from-home products, home appliances, and medical and pharmaceutical products also increased significantly, helping the growth rate in 2021 to be the highest in 11 years.
Interestingly, the products that received a positive attention in a trade balance surplus, although had not made it to the top 10 list, were wood products, cereals, sugar products, personal care and beauty products. This should not come as a surprise, however, as these products made up for the majority of Thai market while Thai society was adapting to the new normal. The National Statistic Office stated that in 2019, personal care and apparels alone had 5.9% market share while food and drinks obtained the biggest market share at 33.9%.
Global economic recovery, Thailand's trade policies, and weakening baht played an important role in this growth. What's more? Right now Thai manufacturers and distributors are actively seeking opportunities to contribute their high quality products to the world as the COVID-19 health measures are being gradually eased. This supports the strength in Thailand's exports.
Who's the biggest importer of Thai products ?
According to Worldstopexports.com, the biggest importer of Thai products turned out to be The United States of America at 15.4% of the global total, followed closely by China, Japan, Vietnam, Malaysia, Hong Kong, Australia, Singapore, Indonesia, and India respectively.
Thailand was the 12th largest agricultural supplier to the United States in 2021. The USDA Office of Agricultural Affairs in Bangkok reported that Thailand had one of the most advanced food processing industries in Southeast Asia, which added value to Thai products. This advantage made the country a strong competitor in the region.
How to source Thai products.
Wanting to grow your business? Looking for Thai products to distribute in your region? Thailand's customs procedures and documents right now have mostly been digitized into an e- Customs system which reduces time and cost of exporting remarkably. As Thailand continues to be the hub of cross-border trading in Southeast Asia, the development makes it more convenient and trouble-free for all the parties involved.
Having said that, before you delve into the world of unique high quality Thai products, it will be an advantage to put some effort into the export regulations and standards research. You will learn the necessary requirements of export entry form and standard shipping documents, which include a commercial invoice, packing list, bill of lading, and letter of credit.And some products may require an export permit which right now is comprised of 50 categories including food products, medical devices, healthcare products, cosmetics, hazardous substances, animals, and some agricultural products.
Although not an easy task to tackle, these procedures and requirements are worth all the effort wheter you are new entrepreneur or looking for new opportunity. It offers access to premium consumer-oriented Thai products and opportunity to expand your business. The specialists at One World Infinite Co., Ltd. will make sure that your operations go as smoothly and effortlessly as possible. For in-depth information and further assistance, please contact us at support@oneworldinfinite.co.th or visit our website at www.oneworldinfinite.com